Here at Web-Translations we've always prided ourselves on packaging our language services to make them as easy as possible for clients in all industries to understand and buy. Our International Blast and Strategic Approach to Localisation services have launched hundreds of companies in international markets, but we realised that the basic SEO we included in these packages no longer met the needs of today's online businesses. A few years ago, the basic SEO tactics we used to promote our clients' newly localised websites in the countries they were targeting were enough to get them started, and generate search traffic, but the search marketing industry has moved on in leaps and bounds since then, and we decided it was time for an overhaul.
The result is a group of localisation service levels that have been designed to suit different business types at different stages of international trade: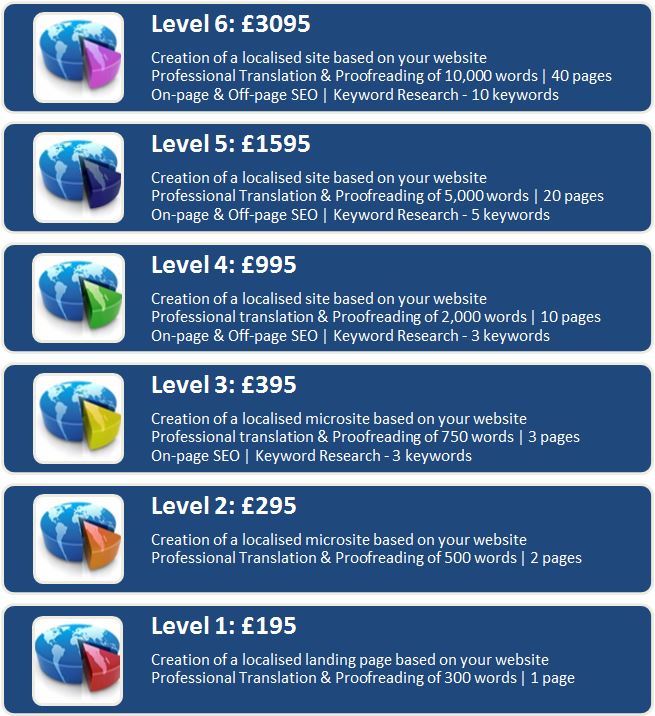 We haven't forgotten eCommerce clients either – however rather than stipulating a fixed package of services for eTailers, we put together a bespoke package for each client, depending on their aims and objectives.
For more about our Website Localisation services, please take a look at our website, or contact us for more information.
There has always been a friendly business rivalry between Leeds and Sheffield, understandable when you consider that the two cities are only 40 miles apart, and happen to be the 3rd and 5th largest cities in the UK (I'll let you fight it out among yourselves which one is which!).
It's common practice for businesses anywhere to look close to home when seeking a partner to deliver a project that may be outside their own remit, or involve a highly specialised area, such as translation. Leeds-based Web-Translations was therefore delighted to be approached by Sheffield company SwitchstanceIT, who had a client in need of a multilingual website.