American Samoa Business Information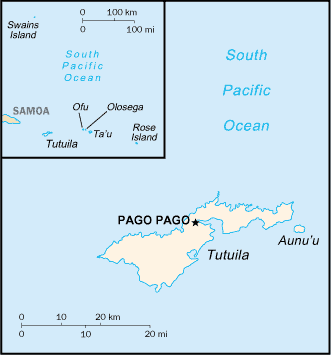 Background
American Samoa is a U.S. Territory. It is centrally located in the South Pacific with ready access to markets and resources in the U.S., New Zealand, Australia, and the entire Pacific area.
The Stability and Security of Operating on U.S. Soil
American Samoa offers many of the cost advantages of offshore locations while at the same time offering the stability and security of operating on U.S. territory.
Duty Free Access to the U.S.
American Samoa is outside the customs area of the U.S., but it has duty free access to the U.S. through U.S. Tariff provision Headnote 3(a).
Tax Structure
Business tax exemptions can be granted by the Governor of American Samoa for up to 10 years. American Samoa is working hard to reinstate a provision in the U.S. Internal Revenue Code, which exempts from taxation the profits of U.S. corporations earned in American Samoa.
Minimum Wage
The current minimum wage in American Samoa ranges between $2.63 and $4.09 per hour with a majority of industries and workers with minimums under $3.50 per hour. These rates compare with a U.S. national rate of $5.15 per hour.
Infrastructure
American Samoa has an exceptionally well-developed infrastructure: harbor facilities, international airport, roads, communications, water, sewer, power, education and health care.
Financing
American Samoa offers a full range of business and commercial financial services. The Bank of Hawaii and ANZ Amerika Samoa Bank provide full interna­tional banking services with correspon­dent banks in the U.S. and the Pacific region. Both banks are FDIC approved.
International Communications
The American Samoa Telecommunication Authority (AS CTA) and privately-owned Blue Sky Communications offer a complete range of modern communications services including state-of-the-art telecommunica­tion systems; satellite network and computer support systems; competitive fiber optic networks and mobile phone services.