Most Valuable Translator Award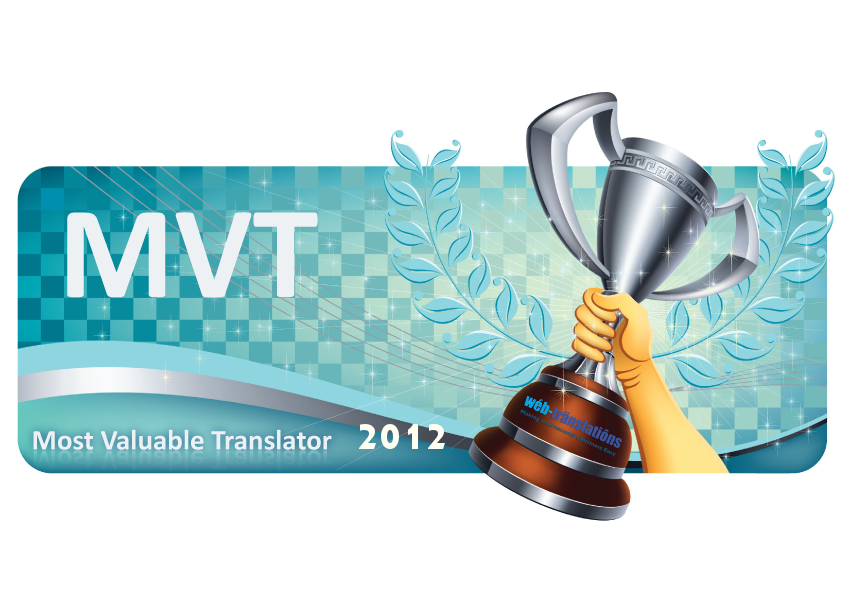 At Web-Translations our translators are our partners and most valued asset. With their help we make every effort to provide our clients the highest quality service.
Each year we acknowledge 20 of the finest and brightest of translators from around the world with our "Most Valuable Translator" award. These exceptional translators come from a wide range of backgrounds and actively share their high-quality, real-world expertise with Web-Translations. With the MVT Award, we thank these inspiring individuals for the powerful and independent translations they give us, and for helping us provide the quality service that our customers have come to know us for.
The 2012 recipients are:
| | |
| --- | --- |
| Alessandra Martelli | Aydin Yulug |
| Birgit Nakielski | Guanglong Li |
| Jay Kwak | Karin Seelhof |
| Kerstin Briese | Laura Mussutto |
| Laura Sanz | Luis Moreno |
| Monica Soler Monzonis | Olga Dorofeeva |
| Sabine Sur | Sachiko Torii |
| Sharlene Yu | Siegfried Armbruster |
| Sindy Cremer | Slawomira Kaczmarek |
| Viola Isokallio | Yukie Nakamura |