Ever contemplated a multilingual marketing campaign that uses SMS messaging to contact your customers? Or simply wanted to practise a bit of French with your latest foreign speaking acquaintance? Then you may want to have a serious think about size. Because when it comes to texting, it really does matter.
As English speakers, we are lucky enough to be given a grand total of 160 characters per text message. These days, our mobile providers generally allow us to exceed these limits and will concatenate multiple messages into one long message, billing us for the equivalent number of messages. UK mobile networks use GSM encoding, which supports a character set consisting of the Latin alphabet, numbers, many other symbols, and some support for non-English accented characters. 'Extended' GSM character sets are also provided in some countries and offer additional characters, but this can vary depending on the mobile provider and handset. Often, using these characters will also subtract more than one character from your precious 160 character allowance. In fact, even using your favourite smiley or salsa dancing emoji will instantly convert your message to Unicode and reduce your character limit to 70. And if you send a special character to someone with an incompatible handset, which is tricky to know beforehand, it may simply appear as a ☐.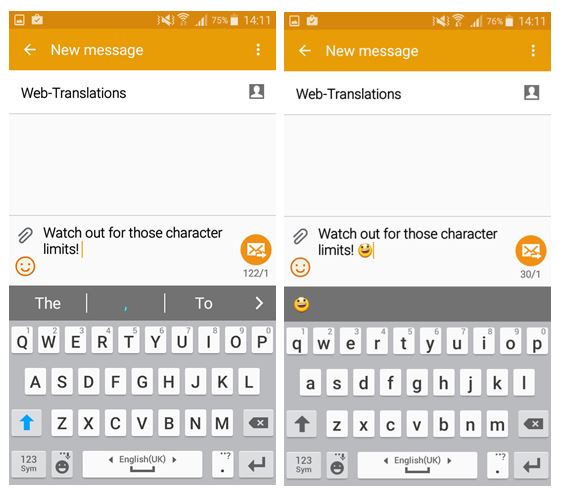 (more…)
20% Off Orders at Web-Translations!
For a limited time only, we are offering 20% off all translation projects. If you've been thinking about translating any type of file, document or web content, get in touch with us today for a free, no-obligation quotation!
What can we offer you?
• A Dedicated Project Manager – one point of contact
• CMS Expertise (EPiServer, WordPress, OpenCms, Drupal… & more)
• Preferential translation rates
• Flexible payment terms
We've got a great track record working for clients in a wide range of industries. Please visit our Portfolio for further details.
Get in touch with our experienced team and find out what we could do for you.
Terms:
• 20% discount to be applied to our standard rates of translation and proofreading
• Discount cannot be applied to Pay-As-You-Go accounts or minimum charges
• Offer restricted to one order per client
• This offer will expire at 17.00 BST, 31 October 2016