Back in November 2014, Skype launched a preview of Skype Translator, which will aim to provide real-time translation of conversations in over 40 languages. Hot on its heels, Google has now updated its own app to include an instant interpreting function using voice recognition, as well as an impressive translation feature which utilises a phone's camera to automatically translate text viewed through the lens.
Long gone are the days of trying to decipher the unusual looking dishes on foreign menus – now all you have to do is hover your phone above the page and receive an instant translation. Here at Web-Translations, we've given the app a quick road test using three major tourist preoccupations: warning signs, tourist information and those all important menus. Take a look at how we got on below.
1. Warning Signs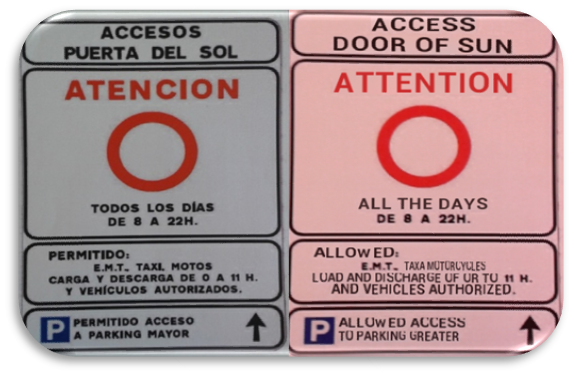 The above sign should notify road users that access to Madrid's Puerta del Sol is restricted to public transport, taxis, bikes and authorised vehicles between 8am and 10pm, with loading and unloading permitted between midnight and 11am. Access is also permitted for those wishing to reach the 'Parking Mayor' carpark. So, did Google Translate help us with this one? The truth is that it didn't provide us with much more information than we would be able to glean ourselves from a quick guess, and its attempt to translate place names actually made things more confusing.


It was a little more successful in the above examples, although strangely had some difficulty detecting numbers. The app is understandably most accurate when it comes to the shorter, more straightforward signs, with the only issue being the unnatural word order, not to mention the fact that most people would be able to understand many of these universal signs without needing Google's help.
2. Tourist Information
The app did a fairly good job of translating some handy Metro ticket information. As this text was smaller and more compact, it was harder for the lens to focus, so we used the 'scan' function, which takes a still of the image and uses an internet connection to translate the words more accurately than when in live camera mode. The results were much stronger here, and provided a glimpse into the more intuitive Google Translate that we have become accustomed to in recent years.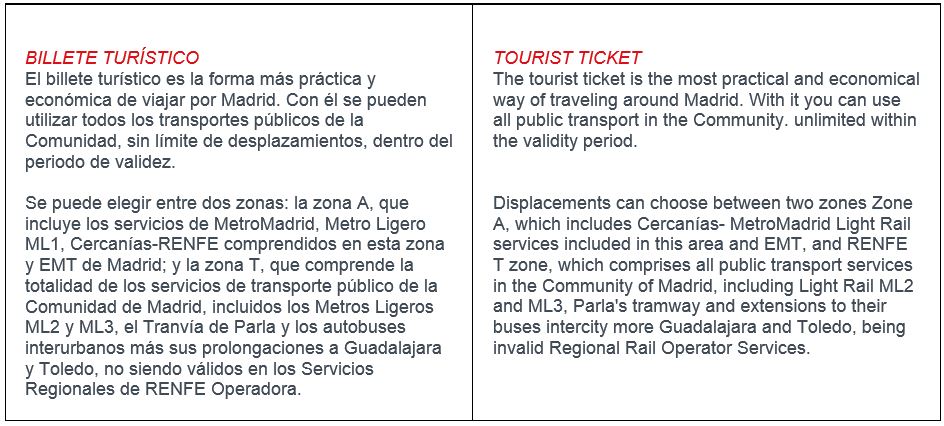 3. Food menus
Arguably one of those occasions when you are most likely to whip out your phrasebook while abroad is when attempting to figure out the various offerings on foreign menus. So, will Google Translate put an end to our woes? Maybe not quite yet…
Unfortunately, the humorous Google Translations of old seem to have made a resurgence when using the camera function, as each word is translated in isolation and following the same rigid word order as the foreign text. The translations also fluctuate quickly from one word to another as your hand moves over the page, so you soon go from having a tasty sounding yoghurt and vanilla millefeuille to a rather less appetising millefeuille of alligator. In the above example. our app had difficulties dealing with crab soup ('Crema de Andaricas'), but if you're looking for soup containing yearbooks or scaffolding, you're in the right place. If that doesn't take your fancy, then why not

try an Iberian Vase (ham), Jerky of Clogs (cured meat) or Nylon (Ham) Croquette? While this might provide us with a few laughs, it isn't much use when trying to choose what to order from an increasingly bemused waiter.
After this visual evaluation, we used the benefits of our multilingual office to put the voice recognition translation to the test. We have to admit that we were impressed with the versatility of this feature, as it did a good job of facilitating a social conversation between a French and English speaker, with only a few minor glitches in the suggested translations, as well as a slightly awkward pause while waiting for the app to process the information.
The Verdict
It has to be said that for all their flaws, there is real potential for these developments to become useful tools for multilingual communication. Both the new Google Translate app and similar Skype Translator tools are currently in their infancy, but will surely only be the beginning of a trend of instant translation technology. So what does this all mean for the translation industry? Well, it certainly seems like the Google Translate app could be a handy companion for a quick holiday abroad, but it does start to come unstuck when faced with various native accents, fonts, and colloquialisms (as demonstrated in this feature from The Guardian). Anything other than a gist translation or basic conversation still requires the understanding of context, nuance and style that only a professional translation service can provide. In short, this evolving machine translation is fine for a quick fix, but still no replacement for the good old human brain.
28 January 2015 12:54