This December the Web-Translations team have been getting into the festive spirit by sharing their very own advent calendar on social media.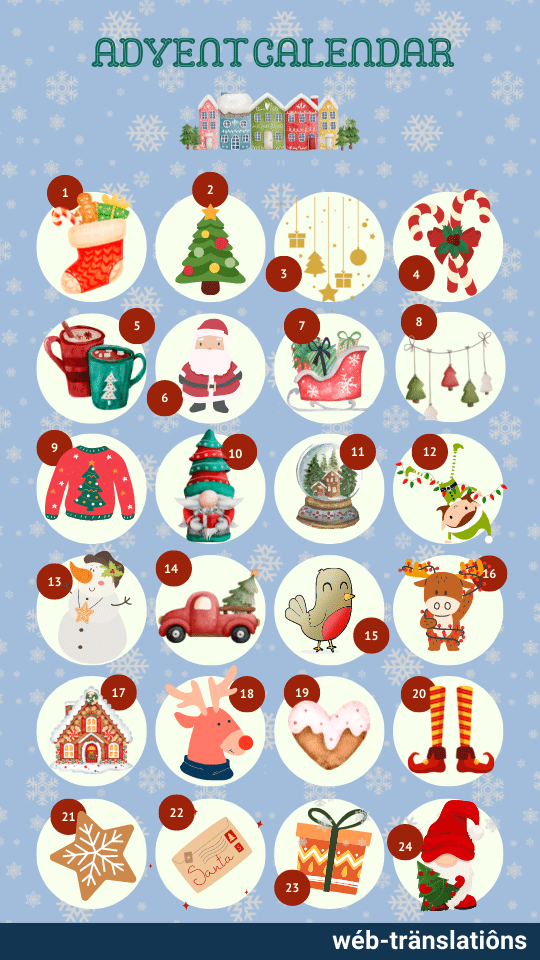 This advent calendar is full of lots of festive facts and it includes some of our favourite festive words as well as our favourite festive traditions. On social media, the team have been sharing short videos each day of the doors being opened. However, in case you've missed it, don't fret! In this blog post we've collated all of our advent surprises and put together a complete Christmas countdown for you!
So, sit back and relax as we look back over our festive month! Also, don't forget to check out our other festive blog post exploring all of our favourite international Christmas films!
Day One
First up, we started with stamps!
Day Two
And for day two, we continued the postage theme…
Day Three
After this, we moved to the advent theme on day three…
Day Four
However, on day four we learnt about an unexpected tradition…
Day Five
Subsequently, things got interesting as we talked about goats on day five! Yes … goats!
Day Six
Equally on day six, we continued the interesting theme and spoke about radishes!
Day Seven
On day seven we returned to normality and looked to vocabulary…
Day Eight
Movies were our focus on day eight…
Day Nine
Next, on day nine, we chose to stay close to home…
Day Ten
Candles took our fancy on day ten…
Day Eleven
And festive bops took to the scene on day eleven…
Day Twelve
Following this, the nativity took centre stage…
Day Thirteen
We explored Christmas giving on day thirteen…
Day Fourteen
Then we explored food on day fourteen … YUM!
Day Fifteen
Another film took to the scene on day fifteen…
Day Sixteen
But we were enchanted by apples on day sixteen…
Day Seventeen
Music once more entertained us on day seventeen…
Day Eighteen
Then on day eighteen we spoke about a well-known holiday…
Day Nineteen
We returned to interesting traditions with marzipan on day nineteen…
Day Twenty
Then we were fascinated by shoe-throwing on day twenty…
Day Twenty One
Another song came about on day twenty one…
Day 22
And money was the focus on day twenty two…
Day Twenty Three
Holidays were discussed on day twenty three…
Day 24
And last but not least, we learnt about an epic roller skating tradition on day twenty four!
---
And that's it! We hope you have enjoyed learning about festive traditions from all over the world! We've certainly loved it!
Thank you for taking the time to read our blog. We hope you have the most wonderful Christmas and a Happy New Year!!
See you in 2023! 🎉
Love,
The Web-Translations Team
22 December 2022 10:17