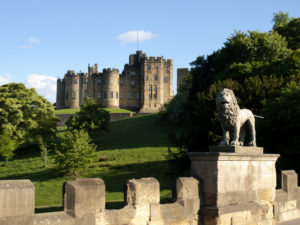 We're making our way through the beginning of the year: while all of us at Web-Translations have been enjoying what 2019 has to offer so far, you still cannot hide from the fact that in the UK currently the weather is cold and blustery and the days, while getting longer, are still rather short. Additionally, for some all this may be accompanied by the odd pang of uncertainty whenever the B-word gets brought up on the news (three guesses which word that is).
Which is why I believe that there is no time like the present to take a relatively more light-hearted look at our country and celebrate its eccentricities, all the while satisfying our love of all things language. How, I hear you ask? With a quiz, of course!
Translators, English-language learners and Anglophiles alike should already be well aware of how the pronunciations of some British place names are, confusingly, so far removed from their written counterparts, with some letters or even whole syllables vanishing the moment someone's mouth opens. Vlogs such as Eat Dream Speak English provide a fun introduction to the commonly-mispronounced place names of the British Isles (if you wish to attempt to pronounce the UK's longest place name, Llanfairpwllgwyngyllgogerychwyrndrobwllllantysiliogogogoch, best of luck). I've chosen to expand this list to include some lesser-known names that certainly make us laugh and scratch our heads in equal measure. Question is, can you pronounce any of these correctly?
Let's start off with an 'easy' one…
1. Alnwick
Pronounced? 'Annick'
Harry Potter fans may already know this one as a filming location for the film franchise: it was in the grounds of this Northumberland town's famous castle where Harry learnt to fly the broomstick with Madam Hooch. He and Ron then went to crash the Weasley's car in the Inner Bailey.
2. Ulgham
Pronounced? 'Uffum'
Strangely losing the G and going one letter back up the alphabet for this one! Also found in Northumberland, Ulgham is a village situated near the beautiful beaches of Druridge Bay and Cresswell.
In the North East, there are also some "French" place names, thanks to the Normans. If you'd like a comprehensive list, David Mills' A Dictionary of British Place Names is a good reference.
3. Cambois
Pronounced? Like French, 'Cam-bwah', surely? No, 'Cammiss'
In Britain, this name is not as French as it appears! Cambois was a mining town until its colliery closed in the 1960s.
Here are some other examples from around the country…
4. Hautbois
Pronounced? 'Hobbiss'
This Norfolk village is said to be named after the Haut Bois family who acquired land in the South East after the Norman Conquest.
5. Belvoir
Pronounced? 'Beever'
The arguably most famous use of this name being for Belvoir Castle in Leicestershire.
6. Beauchamp
Pronounced? 'Beechum'
This Anglicised 'beautiful field' features in many place names around the country.
A popular opinion as to why these pronunciations differ so greatly from their French origins is that, after William the Conqueror's invasion of Britain, French place names were introduced yet the English never learned to pronounce the names properly! Although this has never been confirmed with concrete proof…
I'll finish the quiz in Norfolk: without wishing to sound biased towards my home county, I do believe that this area of the country has the best and strangest collection of place names, the origins of which still remain a bit of a mystery. I dare you to disagree…
7. Postwick
Pronounced? 'Possick'
You may have already clocked onto this one thanks to Alnwick beforehand. Postwick is a little village away from the (relative) hustle and bustle of Norwich, the county capital.
8. Wymondham
Pronounced? 'Windum'
You probably haven't heard of this Norfolk town, however if you've ever seen the popular BBC comedy series Dad's Army, you may have seen the local railway station, which featured as the "Walmington-on-Sea" station.
Finally, last but certainly not least:
9. Happisburgh
Pronounced? 'Haysbruh'
This Norfolk seaside village has recently become a point of concern from an environmental perspective due to its rapid rate of coastal erosion. Perhaps the P's fell into the sea along with parts of the cliff.
How well did you do? If your appetite is whetted for other blog posts about place names, have a look at our previous post about the Czech Republic.
4 March 2019 13:37