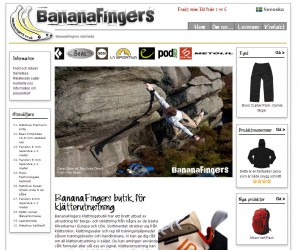 With the help of Web-Translations' skilled web project managers and SEO team, BananaFingers have just launched new microsites in Swedish, Japanese, Italian, French and German.
Acting as portals to their English e-commerce site, the localised pages will target visitors in foreign markets looking to purchase climbing equipment.
BananaFingers opted for Web-Translations' International Blast service as an opportunity to test different markets, and thanks to our helpful follow-up reports, they will be able to track numbers and locales of visitors. This service will help to determine the most profitable international markets for BananaFingers so that when they decide to expand into new markets, they do this with an understanding of the demand for their products.
If only Tesco had used our market testing services, they might not have had to pull their operations from the US market after deciding that America wasn't ready for them!





3 June 2013 12:43