For the month of December, we are offering a 20% discount on all translation projects. So, if you have some content that you'd like to translate, get in touch with us today for a free, no-obligation quotation!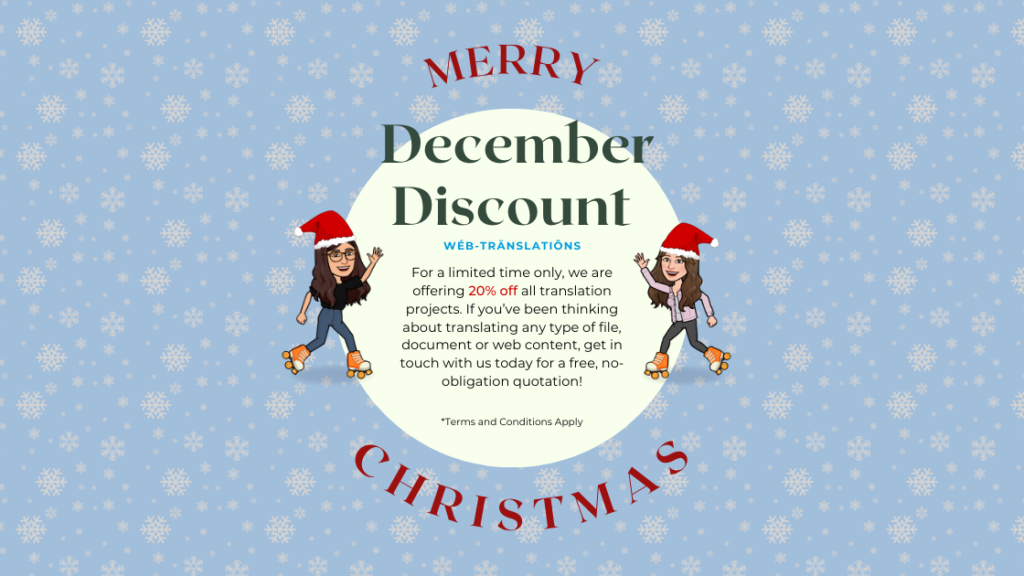 We can offer you:
A Dedicated Project Manager
CMS Expertise (EPiServer WordPress, OpenCms, Drupal… & more)
Competitive Translation Rates
Flexible Payment Terms
Further still, we have a great track record working for clients in a wide range of industries. You can read all about our experience on our portfolio page! Moreover, if you'd like to get to know us more, why not get in touch with our experienced team? That way you can find out what we could do for you.
Terms:
20% discount will be applied to our standard rates of translation and proofreading
Discounts will only be applied to projects exceeding £60
Furthermore, discounts cannot be applied to Pay-As-You-Go accounts
This offer is restricted to one order per client
Please remember that this offer cannot be combined with any other discount
This offer will expire at 17:00 BST, 31st December 2022
However, if your content isn't ready for translation, keep an eye out on our social media for future offers. Also, while you're there, you can also check out our Christmas countdown – we have lots of fun content in store with our very own advent calendar!
29 November 2022 13:10