This weekend the tradition of Escalade will take place in Geneva. The French word Escalade translates to 'to climb' or 'to scale'. The reason why this name was chosen will become clear throughout this blog. This celebration is extremely important to the residents of Geneva, as it celebrates the city being saved.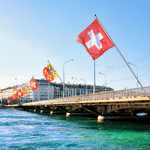 When does Escalade take place?
The celebration is held on the weekend closest to the 11th December every year. This means that this year's celebration will be held on 11th – 12th December.
What is the history behind Escalade?
On 11th December 1602, it's said that the Duke of Savoy and his army attempted to attack Geneva during the night. This attack would take the city of Geneva by surprise. The attack was planned so that the best soldiers would 'scale' the city's fortification walls, so that they could unlock the city gates and let the rest of the army in. This is where its name comes from.
The Festival's Celebrations
Over the weekend, hundreds of people dress in historical costumes and march through the narrow streets of the city's Old Town. There are also historical rifle shots, small children selling souvenirs and there are many stalls selling roasted chestnuts and mulled wine. There is a ceremonial fire on the Sunday evening to celebrate how the city of Geneva was saved and the end of the festival.
The Escalade Run also takes place the weekend before the Escalade Festival. The runners can opt for various routes and distances, but it's a real celebration for the entire city. At the end of the race, people sing the typical escalade songs, and play traditional music. At the end of the race, hot vegetable soup is served.
The Legend of the Hot Vegetable Soup
Hot Vegetable Soup is a common theme throughout the event. This is thanks to the legend of Catherine Cheynel. The legend says that Catherine was the mother of many children, so whilst the children slept, she would make a large cauldron of vegetable soup. During the evening of 11th December 1602, Catherine saw the soldiers entering to attack Geneva, so she poured the cauldron of hot vegetable soup over them. The noise awoke the rest of the city, and the Genevan army successfully defended the city.
To celebrate this, chocolate Marmites ('cauldrons') filled with marzipan vegetables are sold. These are sold in almost every shop and vary in size. On the Friday evening before the festival begins, families gather together. The eldest and youngest family member will smash the chocolate marmite whilst saying "Ainsi périrent les ennemis de la République!" ('Thus perish the enemies of the Republic').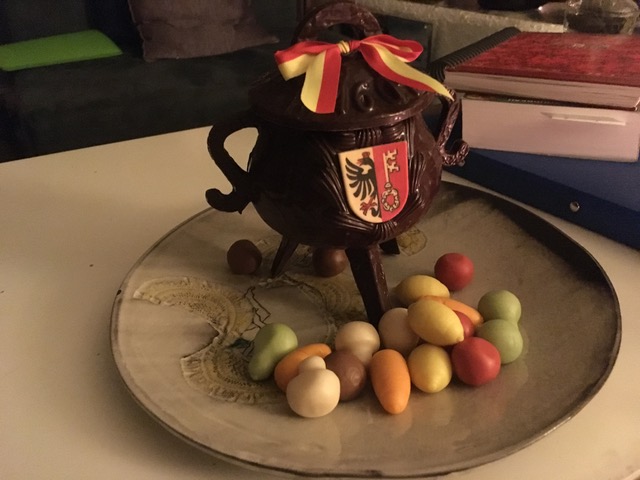 I hope you've enjoyed reading about this tradition, and we'd loved to hear some of your traditions. Please feel free to get in touch via Twitter or using our Contact Us page.
7 December 2021 17:05