Over the past year, SMEs have not only needed to contend with the coronavirus pandemic, but changes to the way we trade due to Brexit have also introduced challenges. SmallBusiness.co.uk cite lost goods, increased shipping times and thicker wads of paperwork as the main headaches when exporting to the EU. Larger businesses often have the cash and resources to ensure as smooth a transition as possible. Smaller businesses may not.
Furthermore, there's the concern that these hiccups are not mere 'teething problems', but could in fact become systemic issues. While some SMEs have stopped exporting temporarily, 11% of those surveyed by SmallBusiness.co.uk were considering halting their export operations permanently.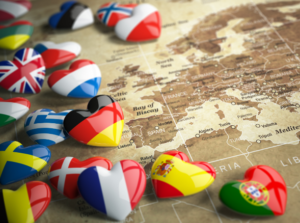 Can you blame them? Figures from the British Chambers of Commerce don't paint a particularly rosy picture when it comes to export opportunities in Europe. For Q1 2021, 'the percentage of firms reporting decreased export sales had increased to 41%, up from 38% in the previous quarter. The percentage of businesses reporting increased export sales fell to 20%, down from 22%'. Decreasing numbers of advance orders (for hotel reservations etc.) also spark the fear that these sales lows could last longer than previously thought.
But fear not! All is not lost. The government's SME Brexit Support Fund offers a much needed leg-up when it comes to trading advice and staff training. And we've compiled a short but sweet list of export ideas; it doesn't have to be doom and gloom.
What opportunities are out there for you?
Keep exporting to the EU, even to just one country!
UK businesses now need to register for the VAT MOSS scheme in every EU country that they export to. Rather than spreading yourself too thinly and wading through multiple VAT registrations, why not devote your export and marketing efforts to just one EU country? And while there's arguably a growing reluctance among European customers to buy British, you can leap over this hurdle by translating your website content into your target market's language. Customers are more likely to buy online when viewing content in their own language. Making that effort to localise your content effectively proves that you truly value their custom, regardless of where they're based!
Establish a physical presence in mainland Europe or Ireland
This is a more extreme solution, but may well be worth the effort, especially when it comes to selling physical goods. 11% of those surveyed by SmallBusiness.co.uk had set up or were looking to set up a presence in an EU country. This could make exporting easier, as well as using EU-based warehouses, something that 9% of those surveyed have chosen. And if the prospect of foreign-language documentation and correspondence concerns you, Web-Translations can always come to your rescue!
Turn your attention to a non-EU country
Curiously, shipping times for UK exports to some non-EU countries have actually decreased in recent months. As we were (gratefully) waving goodbye to 2020, shipping times to Kenya fell from 12.75 days to 5 days. Further north, shipping times to Greenland have lowered to just one day, a 66.67% drop from the original 3-day turnaround! This could be an opportunity for your SME to target markets that you hadn't considered before.
Over to you
Hopefully this blog provides you with some food for thought when it comes to export in a post-Brexit era. The initial impact of the UK's departure from the EU may concern some, but with proactivity we can ensure that any trade hiccups are temporary, not systemic. Britain's new position in the world can lead to positive, exciting possibilities for your business.
Best of all? We're here to help you with your new export strategy, be it with translation or other international marketing services. We'd love to hear your plans: simply get in touch using our contact form.
References
'A quarter of small exporters cease selling to EU since Brexit transition end', SmallBusiness.co.uk (29th March 2021)
'Four in Ten UK Exporters Reporting Decreased Sales in Q1 2021', British Chambers of Commerce (12th April 2021)
24 May 2021 09:12