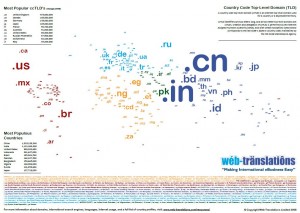 We talk a lot on this blog about the best way to go about localising your content for foreign markets, what makes a good translation, etc. In this post I'll cover one of the most fundamental aspects of website localisation: which website structure to use.
There are several different options to consider when you set up your multilingual site, and the type of company or brand you are, your international expansion plans, along with the CMS you use (if any) will all influence what will be the best way forward for you and your business.
Are you targeting particular countries? If yes, then a Country Code Top Level Domain (ccTLD) such as company.es / company.fr will fit well with your international strategy. Here's a summary of the main benefits of a ccTLD:
In-country search engines will automatically pick it up
Highly trusted by local users
Gives you an online asset to build on in that country
However, it's worth bearing in mind that there may be issues in obtaining a ccTLD (such as residence requirements), and you won't be making the most of the SEO authority you have established through your existing domain.
If you choose to structure your multilingual site on your existing domain, there are two options:
Sub folders – folders contained within your core site, e.g. company.com/de
Sub domains – these are separate domains that are part of your main site, e.g. de.company.com
Both of these links would lead to a German language homepage.
You can also target your site by language rather than country. This is a good idea if you receive traffic from people with a particular language setting by default on their browser, but who are based in different locations, e.g. German speakers in Germany and Austria.
In this instance you would use either a sub domain or sub folders.
Another option is to use a .eu domain if your business is targeting a pan-European audience. .eu is often used to emphasise the 'European identity' of a website, as opposed to the website having a strictly national ccTLD or the global feel of a "dotcom".
If you are planning a multilingual website launch, or have any questions about the different domain and structure types, please get in touch.

2 August 2013 13:34