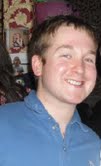 Hi everyone!
I've recently joined the Web-Translations team as a project coordinator. I am originally from Bradford but familiar with the local area and went on to University of Manchester where I graduated in 2009 with a BA in German and Business Management.
Since graduating I have worked in a couple of different industries – finance and logistics – but always with the view to these jobs being short-term. I have been on the lookout for a role that could essentially combine my knowledge of another language with my innate passion for business, and have found a perfect match with Web-Translations. I furthermore believe I have found somewhere with the right tools to enable me to develop and to launch a successful career.
I am highly driven to achieve goals and to deliver for our customers as the business looks set to grow and expand into new markets, and what's more, I look forward to helping other businesses do exactly the same.
Outside work I'm passionate about sport, in particular football, and have never wavered in my support of a team going through dire straits at the moment. I also love to travel and experience different cultures and meet people from different nationalities. Building on the time I spent living in Frankfurt, I travelled around Central and South America during the summer of 2010, and am certainly keen to do more of this! I got to go on the recent trip to the dmexco event in Cologne with my new colleagues Lynn and Cassandra, and am looking forward to putting my skills and newfound knowledge into practise.
I look forward to the challenge the future holds.
12 October 2011 13:16