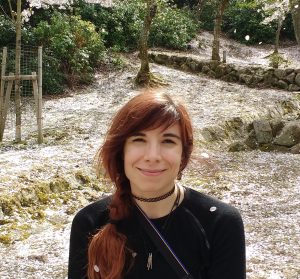 Hi everyone,
I'm Marina, and I just joined the Web-Translations team as Project Coordinator after finishing my MA in Audiovisual Translation Studies at the University of Leeds. I'm really excited about starting my career in the language industry in this company!
While my MA focused on audiovisual translation, particularly on interlingual and monolingual subtitling, I also translated thousands of words in my different language combinations and learnt a lot about project management and CAT tools.
Before coming to the UK, I studied a BA in East Asian Studies at the Autonomous University of Barcelona in its large, lively campus located in some grassy hills north of Barcelona. The degree dealt mainly, but not exclusively, with China, Japan and Korea – their history, politics, literature, and much more. I was doing the Japanese track of the BA, and I took the opportunity to spend one year in Japan as an exchange student at Ritsumeikan University in Kyoto. It was an amazing experience, from which I learnt so much and met so many nice people from around the world. I love backpacking, and I took all the chances I could to explore different parts of Japan, dipping into as many onsen (hot springs) as possible! Japan is such a beautiful country.
Reverse culture shock hit hard when I went back to Catalonia, but living in Barcelona for a year while finishing my BA was nice – not only because it's a wonderful city, but also because I was living with classmates in a flat where we spoke a lingo that mixed Catalan, Spanish, English and Japanese. I also worked part-time as an admin assistant in my university department as part of the Ministry of Education collaboration grant, during which I gained a good understanding of everything that was going on in the department in relation to research.
At that point, I had already decided that I wanted to work with languages, and I translated and provided a commentary for a Japanese short story as my BA dissertation. With my love for cinema and series, I decided to come to Leeds to continue my studies here, since the University of Leeds offers training in audiovisual translation in a programme that includes Japanese – not a very common combo. It turned out to be an excellent choice, and here I am now!
I'm looking forward to everything that I will learn working at Web-Translations and to applying the skills that I acquired during my time at university, as well as putting my fixation with stationary to good use to keep everything organised and running smoothly!
23 November 2018 14:24