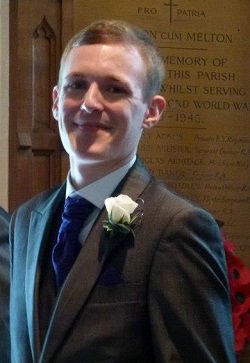 Hi everyone,
I joined Web-Translations as a Project Coordinator in April 2013. I am a recent graduate of languages and translation, and was looking for a career either within the translation field or within administration/project management, in particular with an international outlook. It was for that reason that I applied for the position as it matched perfectly with my aspirations, as well as with my skills and qualifications.
Originally from the East Riding of Yorkshire, I graduated from the University of Leeds in 2011 with an MA in Applied Translation Studies, having received a BA Hons (2:1) in French and German from the University of Hull in 2011. I also hold a Certificate of Higher Education in English Language and Linguistics from the University of Leeds and 4 A-Levels. During my undergraduate studies, I participated in the University of Hull's Year Abroad programme, living in Osnabrück, Germany and Lyon, France. In addition to improving my linguistic competence, it also greatly improved my self-confidence and enhanced my cultural awareness and sensitivity.
Prior to joining the team, I had been working as a freelance translator, translating most text types, including but not limited to: legal, business, technical and administrative texts. I also worked in retail for nearly 8 years, during which time I rose to a supervisory role. This allowed me the opportunity to deal with both customers and clients, to resolve their enquiries and to fulfil their requests, all of which taught me how to adapt my conduct to suit the situation.
I was delighted to be accepted onto the University of Leeds's Applied Translation Studies course, one of the most prestigious Master's courses in translation and one which provides training on a vast number of CAT tools as well as training in localisation. During my postgraduate studies, I gained significant experience working within various multicultural teams and took on the responsibility of being the project manager for one of the assessments. In this role, I was responsible for the successful completion of a multilingual translation project involving seven translators. I was also able to pursue my interest in business by attending the Managing Business across Cultures module, through which I learned about business etiquette across cultures, the use of culture in advertising, business ethics and Corporate Social Responsibility.
The MA was the prefect training ground for my role here at the company, and I look forward to working with my fellow team members and hope to continue developing my skill set during my future career at Web-Translations.





24 May 2013 09:41