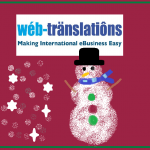 As the festive season approaches and 2015 draws to a close, we've been reflecting on what's been another successful year for Web-Translations. It's certainly been an interesting 12 months, with plenty of changes and challenges.
In May we said goodbye to our Projects Director Dominic, who has moved on to pastures new after 3 ½ years with us. Another farewell came soon after in July, when we packed up our Queen's Square office and moved to Cloth Hall Court. Our new position puts the city centre and its shops right on our doorstep, making stepping out for a tasty lunch every now and then that bit more tempting! The day of our move was also the day we welcomed Jennifer back from maternity leave. We were very happy to have her back with us; however, we're not sure she was initially quite so ecstatic to see us: on the hottest day of the year, with plenty of heavy boxes to help carry!

Soon after this we welcomed our newest addition Francesca, who joined us as a Project Coordinator on the completion of her Masters. A few days of technical glitches brought about by the move left us undeterred, and we soon settled into our new space, with Fran quickly integrated into the team.
More changes were to follow in October, when Rob announced his decision to leave Web-Translations to pursue a career in finance; an interest he developed during his time here. We wish him all the best in his new role. October also saw a promotion for Jasmine, who is now our Client Services Director; a challenge she has risen to commendably.
We're a social bunch here at Web-Translations, and always welcome a chance to meet the translators that we work with. This year we enjoyed visits from Alessandra Martelli and Zoe Bishop-Beal. We were also in contact with Dragos Ciobanu, the programme director of the University of Leeds' Masters in Applied Translation Studies. We met with some of his students in our Queen's Square office, giving them an insight into life at a translation company, as well as answering questions about the industry in general. It was great to meet the students as they were just starting to embark upon their careers, and we hope they've taken some of our advice forwards into working life.
Amidst all these adjustments, the focus of our work remains to maintain excellent relations with our talented network of freelancers and to provide a great service to our clients. We'll be handling requests right up until the 23rd December, so now's the perfect time to get in touch with us for end-of-year projects, or upcoming work for 2016. Contact us via sales@web-translations.co.uk for a no-obligation quotation.
14 December 2015 15:31