Get Fit for London 2012 with the recently launched Olympic Gold Website Package by Web-Translations.
The 2012 London Olympics represents a great sales opportunity. As mentioned in the Getting Fit for the Olympics blog post published last week not everyone is capitalising on this sales opportunity. Do you want to go for Gold in the 2012 London Olympics?
Last year the largest ever campaign by a national tourist board was launched by VisitBritain; the £100 million GREAT Britain You're Invited campaign. Primarily fronted by five major global celebrities who agreed to film TV ads and help promote Britain overseas.
As VisitBritain's Mark Di-Toro says, "Now is the time to wave the British flag". Thanks to the GREAT campaign a global audience of billions will have their eyes firmly set on Britain like never before. Will you be profiting from this interest?
An example of a company who are fit for London 2012 is The BrookLodge & Wells Spa, a stunning luxury spa hotel deep in a spectacular Wicklow Valley, less than an hour's drive from South Dublin.
Director Eoin Doyle consulted with our Sales and Project Management team here at Web-Translations and decided to create French, Italian, German and Swedish landing pages for the BrookLodge site in order to increase international bookings.
"The work was completed extremely quickly, and the customer service I received from the team was excellent. Our website is now multilingual, which has greatly assisted in our on-going campaign to attract more overseas visitors to the BrookLodge and I intend to add more languages to expand on this success. I would definitely recommend to all hotels based in the UK and Ireland that they localise their websites to ensure that they have the best possible chance in a highly competitive market."
– Eoin Doyle, Director – The BrookLodge & Wells Spa
The Olympic Gold Package has been designed to get you fit for London 2012 with the Strategic Approach to Localisation (SAL) service. Website Localisation is essential to win international customers, and get you in line for a Gold Medal! Internet users search in their native language, and will stay on your website twice as long if it's localised into their language. Customers are also 4 times more likely to make a booking or purchase in their own language.With over 5 million visitors coming to the UK during 2012, you can't afford to miss out on the opportunity this presents for your business. Luckily there is still time to take action and boost your bookings.
With our Olympic Gold website package you get: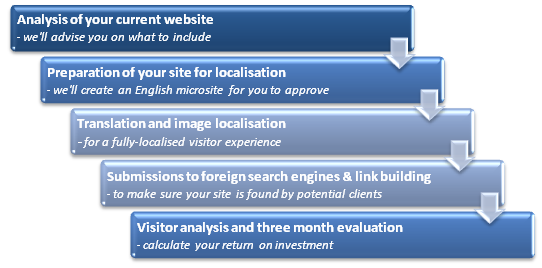 The package is available at 3 levels, to suit different sizes of website. Additionally more languages to spread your message to a wider audience (Europe, Asia and World package available).
Get a winning multilingual website – Click here to learn more and to fill in the form to take advantage of the Olympic Gold Website Package offer today!
3 May 2012 16:58