We hope that you are all well and have had a good start to 2022! The last couple of years have been tough for everyone, but our linguists have continued to provide excellent work for us. They respond in timely manners, produce high-quality translations, have great attention to detail, and are always kind! During these difficult times, it's lovely to hear about how each translator is doing. Hearing about their achievements really puts a smile on our faces.
Now it's January, and it's that time of year again when we announce our Most Valuable Translator Awards! It goes without saying that we are so grateful for all of our freelance translators' help, and it's so difficult to choose just 10 of them. They all work so hard and they are a pleasure to work with, so thank you to you all!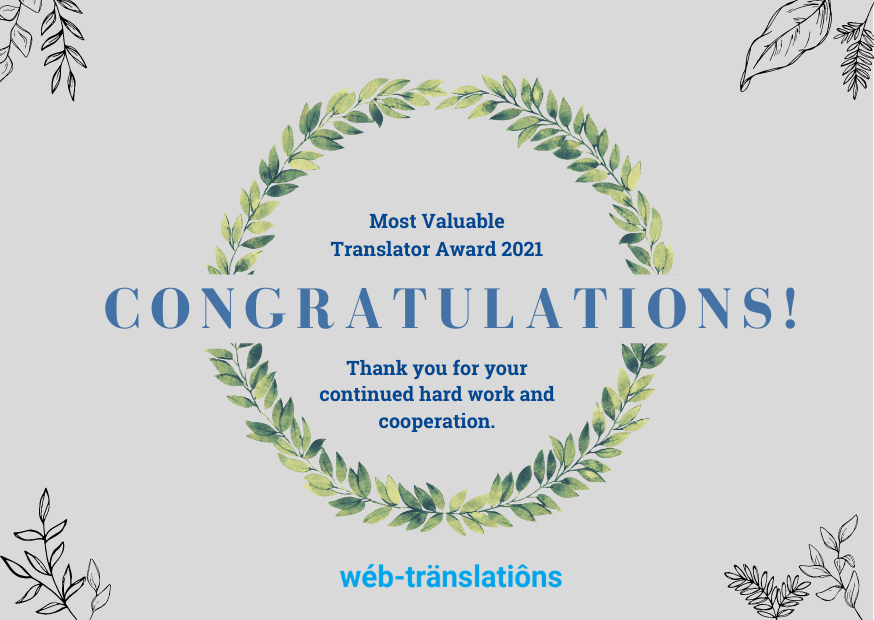 The Web-Translations team have been particularly impressed by the below group of linguists; some have provided invaluable assistance on urgent projects, while others have consistently provided high-quality contributions for our key client accounts. Their professionalism, communication and translation talent is second to none and does not go unnoticed, particularly during these current uncertain times.
Please join us in congratulating the following 10 linguists (listed in alphabetical order):

Basel Jbaily
Carles Hernandez
Dietger Houben
Juliette Mazurkiewicz
Karin Seelhof
Laura Mussutto
Marina Torruella Bonsoms
Octavian Blenchea
Sofia Pinto
Yinli Zhuang
Thank you from the bottom of our hearts! We look forward to working with you, and all of our fantastic linguists, throughout the next year!
28 January 2022 08:48