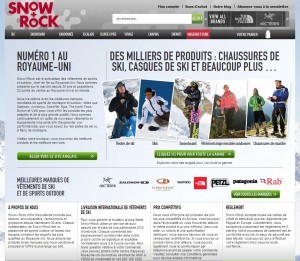 With 22 retail stores across the UK and Ireland, and also a thriving e-commerce business, Snow+Rock are testing different markets abroad with new microsites in French, German, Dutch, Swedish, Spanish, Italian and Danish.
The UK's top ski clothing & equipment retailer, Snow+Rock stock high quality performance products from the world's best snowsports & outdoor brands. Their range includes ski gear, snowboard equipment, walking boots, climbing equipment, and much more.
Snow+Rock chose our International Blast service, and now have well-optimised bespoke microsites targeting seven different European countries. The International Blast service is available in 18 different languages. We recommend choosing a range of languages to get the most accurate picture about international interest in your product or service, and as such we offer discounts for multiple languages: 5% for 5 – 9 languages | 10% for 10 – 15 languages | 20% for all 18.
We are certain the visitor traffic information reports we provide will help Snow+Rock to take an informed decision as to which mountains to tackle next – whether these are the French Pyrenées, the Italian Alps or the Spanish Sierra Nevada.
19 June 2013 16:04