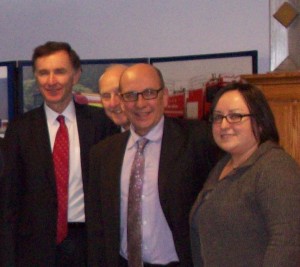 On Friday I had the opportunity to have lunch with Lord Stephen Green of Hurstpierpoint, Minister for Trade & Investment.
Entrepreneurs from businesses across Yorkshire attended a lunch event hosted by Angloco in their Batley premises. Angloco manufactures fire engines for all kinds of organisations around the world, and exports to over 45 countries.
Lord Green opened the floor, inviting those present to share their concerns and challenges, and discuss possible solutions for future growth.
The main topics of discussion ranged from finance;  UKTI's OMIS (Overseas Market Introduction Service); and experiences of selling into France, to the challenges involved in employing and training graduates.
Those present represented various industries: publishing, manufacturing, engineering, distribution, and language services of course. Lord Green listened attentively, offering advice and the benefit of his experience to each situation that was described.
Lord Green was given a tour of the premises after lunch, before taking the train back to London.
Many thanks to Angloco for hosting the event, and to UKTI for inviting Web-Translations to take part.
19 February 2011 09:46