We are pleased to announce tha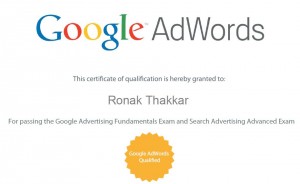 t our Search Engine Marketing Manager, Ronak Thakkar, has been awarded Google Adwords Certified Professional status.
Adwords certification is a globally recognized stamp of approval which showcases knowledge of the latest AdWords tools, best practice techniques, and demonstrates the ability to effectively manage pay-per-click campaigns.
So, in addition to his copious experience in getting real, tangible results for clients from their online campaigns; Ronak now has this qualification to back up his knowledge!
Are you planning international online advertising? Do you need help setting up or managing your multilingual Adwords program? With a certified Google AdWords Qualified Individual as part of the team, Web-Translations can ensure that you receive the highest quality assistance with your international online advertising program. We've achieved great results for a wide variety of clients.
For more about pay-per-click and how we can help with your multilingual campaigns, email sales[at]web-translations.co.uk or call +44 (0) 113 8150460.
14 February 2011 13:12