We've expanded Web-Translations and opened an office in Bath to meet the needs of our growing portfolio.
Andrew Carter (pictured right, below) who has been with us for over 2 years as a freelancer, has now become a full-time employee, and is heading up the new satellite office with his latest recruit, Jonathan Power (pictured left).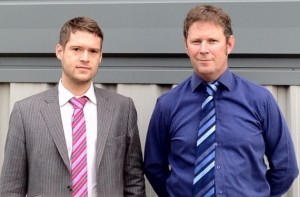 Andrew says: "I worked with Web-Translations on a freelance basis for 2 years, and became a full-time employee just a few months ago. I enjoy working with a wide variety of clients, and love knowing that whatever their aims are we have a product in our multilingual website "toolkit" that will help them succeed in international markets."
Jonathan, who comes from a recruitment sales background, is already making a name for himself at Web-Translations, having won several new clients who need support launching into new international target markets.
Already working with Future Publishing and The Eden Project in the South West region, the Bath office will further strengthen the Leeds agency's position to service clients nationally.
Leeds based Web-Translations MD. Daniel Rajkumar said: "Web-Translations has just entered its tenth year of trading and it's a really optimistic time for us as a business, as clients across all industries are looking at cost effective ways of broadening their reach into wider markets.
"Having recently received additional funding for the business we are on with our ambitious growth plans and the team hopes that the Bath office will soon be overflowing with orders!"
If you'd like to contact Andrew or Jonathan to discuss a project or your international expansion plans, you can reach them on sales[at]web-translations.co.uk, or call +44 (0) 1761 408185.
16 November 2011 16:28