The rise of social media giants like Twitter and Instagram have changed the food industry. With instant access to an audience voraciously consuming 'little twist' recipes and how-to videos, TV chefs are now better placed than ever before to sell their brand to the public and attract more fans. However, increased access to followers works both ways, and the risk of a misguided post going viral is one downside to this new form of exposure. This is something Jamie Oliver found out on Tuesday when he took on Spanish gastronomy and lost.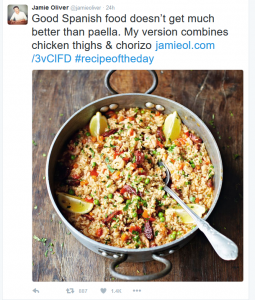 Some users helpfully sent Jamie some pictures of real paella, suggesting that his own concoction may be better labelled as Arroz con cosas (rice with stuff). Others shared their own 'versions' of classic British dishes: fish and chips with custard, anyone? Our favourite responses had to be the following:
To some, this mockery might seem unwarranted. Jamie's recipe features rice, chicken, peas, prawns and that quintessential Spanish delicacy chorizo all blended together with stock. A standard paella, right? Wrong, actually.
Paella originates from the Spanish region of Valencia, and the Valencians are particularly protective of this particular piece of culinary heritage. Because of this, the recipes for Paella Valenciana and Paella de Marisco have been standardized: the former traditionally containing cheap meat such as rabbit or chicken with seasonal green vegetables and beans; the latter substituting the meat and greens for fresh seafood. Chorizo, whilst popular in a range of other Spanish dishes, is simply not a part of this.
Jamie's recipe also differs from traditional paella in its cooking method. Traditionally paella is cooked in a large shallow pan over an open fire. The rice simmers but is not regularly stirred, and the flame results in the formation of a layer of soccarat: a crust of toasted rice at the bottom of the pan. Jamie uses a deep filled casserole or soup pan, and his method is more akin to risotto making.
Disputes over the 'corruption' of paella by foreign chefs have been going on for years. A quick Google search reveals that this is an issue that genuinely frustrates a lot of Spanish people; in fact, a group of Valencian men were so irritated that they set up WikiPaella, a website dedicated to preserving the traditional methods.
In an age where a fact check is available at the click of a button, is there ever an excuse for not doing our research? Jamie's blunder is just one of a long list of gaffes by celebrities and institutions who should have consulted their search engine: who can forget, for example, Adidas' woeful misspelling of Colombia on advertisements leading up to this year's Copa America, or Delta Airlines' claim that there were giraffes in Ghana?
The main issue here is cultural awareness and an effort to be respectful. Country names and basic facts are easy to look up, and any doubts should be checked before publication; in this way, the two examples above are really inexcusable. For Jamie, however, the issue is a little different. If you're unaware of the controversy surrounding paella, would you think to look it up? That's essentially looking to eliminate a problem that you cannot see.
Cases like this are the reason why we always use native speaker linguists on our marketing translation projects. These in-country specialists know exactly how your text will be perceived and can flag up any potential pitfalls that you may have missed, saving your online reputation. Combined with an in-house team of project managers with experience living in a range of countries, we'll ensure that your marketing team never end up in hot water.
6 October 2016 09:37