Chances are, you use Adobe InDesign to create marketing materials such as posters, flyers, brochures, and ebooks.  The good news is that InDesign is perfectly suited to create translated versions of your original content.
What is desktop publishing?
You may know this as 'typesetting' or 'DTP' and it is the process of using specialist design software to create files with customisable layouts for print or download.
Why do you need desktop publishing for a translation?
Typesetting translations is essential because of the way language changes when it is translated. Text often expands in length when translated, which can make the translated version up to 25% longer than the original, creating challenges when it comes to fitting the text into your design. Simply translating an .idml export from InDesign will not yield print-ready files; a designer needs to import the .idmls to InDesign, tweak elements of the layout, add line breaks, and ensure that the translation looks as carefully thought-out as your original.
How it works
From the quotation stage through to QA checks and creation of print-ready files, we're here to help. Read more about our process in the graphic below: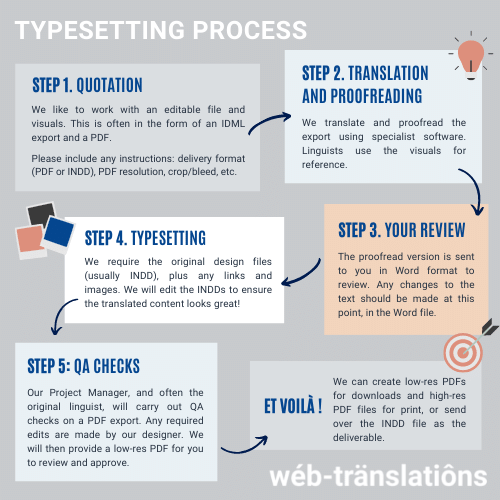 Whatever your language…
Languages with non-Latin alphabets can also be difficult to work with for the uninitiated – for example, Arabic and Hebrew require completely modified page layouts because they read right to left. We are equipped to overcome these challenges and will adjust your design files accordingly to accommodate the translated text and make it look its best, ready to impress the final reader.
Whatever your format…
Our experienced typesetters can tackle anything from business cards and technical manuals to packaging, corporate brochures and posters – in any language or file format. We can also work with Quark and other design software – not simply InDesign. We are happy to give you advice about Desktop Publishing issues if you are printing languages for the first time or using languages you haven't worked with before. Just ask us for guidance.
No source file? No problem!
We also have great optical content recognition (OCR) software which can create a Word document based on your text. If you need the layout to match the original file, our designers can work magic to make it look (almost!) exactly like your original, but in your preferred language.
Top tips
At Web-Translations, we have extensive experience producing attractive finished documents in a variety of languages and formats. We've compiled some guidelines to keep in mind when you are writing content and creating your design, which can be found over on our blog: Translating PDFs.