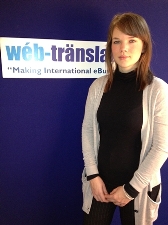 Hi Everyone!
I'm Fiona Henderson and I have just joined the Web-Translations team as a Project Coordinator.
I was born in Edinburgh and grew up in the nearby seaside town of North Berwick. After studying Russian and Slavonic Studies at the University of Glasgow, I moved to Leeds to study towards an MA in Applied Translation Studies at the University of Leeds.
I'm delighted to have found a position which allows me to engage with my knowledge of languages on a daily basis, whilst learning new skills and building on my experience in this exciting and constantly evolving industry.
Other facts about me: I am extremely musical and love going to the theatre to watch an opera or ballet, or to listen to some classical music. I am not very sporty but I do enjoy horse riding, ice skating and dancing. My dream is to take the Trans-Siberian Railway from Moscow to Vladivostok!


Web-Translations is currently looking to recruit two new Project Coordinators to join our ever-expanding team.
We are very excited to have a stand next Wednesday, 17th November, from 11am – 3pm, at the University of Leeds Expo' 10.
Two of our employees, Project Managers Claire Schofield and Eleanor Montgomery, will be there representing the company, explaining what exactly goes on in the Web-Translations office on a day to day basis.
In case you can't make it to the Expo, Eleanor has made a short video describing what it's like to work at Web-Translations – take a look:
http://nourish.wistia.com/activate/c2f74d683c?redirect_to=/medias/222492
If you are interested in applying for the role, please come along and bring your CV and a covering letter.  We welcome reapplications.
Please have a look at our careers page for more information: http://www.web-translations.co.uk/Company/careers/Project_Coordinator_2010.html.
We look forward to seeing you there!