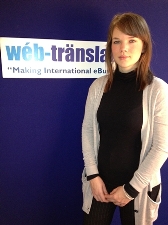 Hi Everyone!
I'm Fiona Henderson and I have just joined the Web-Translations team as a Project Coordinator.
I was born in Edinburgh and grew up in the nearby seaside town of North Berwick. After studying Russian and Slavonic Studies at the University of Glasgow, I moved to Leeds to study towards an MA in Applied Translation Studies at the University of Leeds.
I'm delighted to have found a position which allows me to engage with my knowledge of languages on a daily basis, whilst learning new skills and building on my experience in this exciting and constantly evolving industry.
Other facts about me: I am extremely musical and love going to the theatre to watch an opera or ballet, or to listen to some classical music. I am not very sporty but I do enjoy horse riding, ice skating and dancing. My dream is to take the Trans-Siberian Railway from Moscow to Vladivostok!


Oh dear, who did that translation for you, Hillary? Next time, give us a call!
If you haven't seen the latest US foreign relations gaffe on the news, have a look at youtube – it really is quite funny! Hillary Clinton, in an attempt to improve US/Russian relations, had a meeting with the Russian Foreign Minister, Sergei Lavrov, and presented him with a gift in front of a room full of reporters. The red button on a black and yellow base was supposed to say 'reset' in English and Russian, and was intended to be symbolic of Russia and the US restarting their relationship.
Clinton: "We worked hard to get the right Russian word. Do you think we got it?"
Lavrov: "You got it wrong; this says 'peregruzka,' which means overcharged."
Ooops!