Hi everyone!

I'm James, the newest member of the Web-Translations team and I'm joining as a Project Coordinator. I have an MA in Translation and Interpreting from Swansea University that I completed in 2022.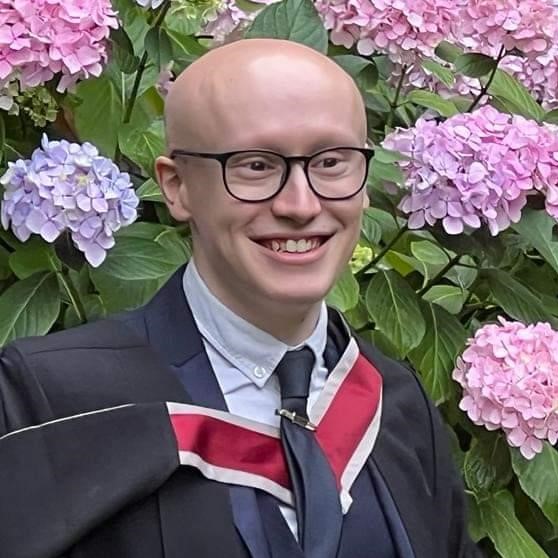 Languages have always piqued my interest. I remember my first beginner's French book from when I was about 10. I would read it cover to cover over and over and again. As soon as I got the chance to learn German in secondary school, I jumped at the chance. Over 10 years on, I still love learning about new elements of the language and all its nuances. My passion for the German language and culture led me to forgo my initial plan of pursuing history. Instead, I chose to follow a linguistic path when deciding my options for university.
Through my time at university, I've had the opportunity to not only gain some key skills for work in the language industry, but I've also been able to live abroad and really immerse myself in the culture. Although cut short by the pandemic in 2020, the first half of my Erasmus+ year was spent at the Forlì-based Department of Interpreting and Translation at the University of Bologna. This led to one of my proudest achievements; finishing my BA and graduating with a First Class Honours despite the wealth of setbacks thrown at me because of the pandemic.
Thanks to my MA, I was able to get a taste of the inner workings of the language industry thanks to one of my courses. This, in turn set me up well for my MA internship in Berlin. Being able to experience the day-to-day running of a Language Service Provider motivated me even more, and I am beyond ecstatic to now have the chance to be involved in the real thing thanks to Web-Translations.
Outside of work, I'm an avid traveller and concert-goer (at my happiest when I can combine the two!) I love all kinds of horror films. I also enjoy a nice cuppa and some Hell's Kitchen or a good book when I want to wind down.
---
Interested in learning more about our team members? Read more Meet the Team blogs here.
19 September 2023 15:45