We hope that you are all well and have had a wonderful start to 2023! A lot has happened in the past year, but our linguists have continued to provide excellent work for us. They respond in timely manners, produce high-quality translations, and are always kind! It is truly a pleasure to work with them all.
In order to show our appreciation for our linguists, each January we like to announce our Most Valuable Translator Awards. Translators who are given this accolade are those who have repeatedly gone the extra mile and who have helped us when we have needed them most. It of course goes without saying that we are incredibly grateful for all of our freelance translators' help and so it is difficult to choose only 15. Everyone works so hard and is a pleasure to work with, so thank you to you all!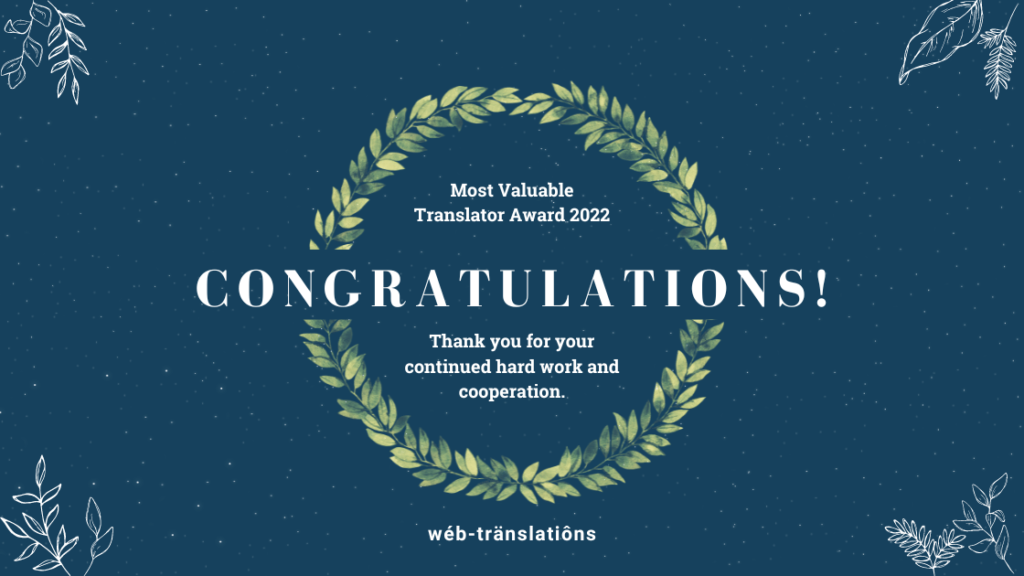 However, the Web-Translations team have been particularly impressed by the below group of linguists; some have provided invaluable assistance on urgent projects, while others have consistently provided high-quality contributions for our key client accounts. Their professionalism, communication and translation talent is second to none and does not go unnoticed.
Please join us in congratulating the following 15 linguists (listed in alphabetical order):

Axel Couton
Betty Revelioti
Christina Pauly
Gizem Kartum
Hussam Muhidat
Ingrid Devanne
Isabella Marzano
Laura Mussutto
Maciej Glinksi
Marco Ramon
Octavian Blenchea
Pablo Montero Llano
Thomas Carlsen
Yoshi Shiomitsu
Zlatka Gospodinova
Thank you from the bottom of our hearts! We look forward to working with you, and all of our fantastic linguists, throughout the next year! See you next January for the next Most Valuable Translator Awards.
Love,
Web-Translations
17 January 2023 16:16