The process of outsourcing services is no longer limited to call centres and the IT industry, and the localisation industry has experienced tremendous gains in productivity and reach by engaging the scale and cost benefits of global resources.
Outsourcing allows you to spend money on what you need. Not what you might need.
The risk of employing an in-house translator is that you may not require translation work every week or even every day. If this is the case then you end up wasting money on a resource that isn't being utilised. You also waste a talent that isn't practiced. If you outsource your linguists however, this isn't the case. You would simply need to recruit the right linguist at the right time. Furthermore, outsourcing your language resources allows you to scale up to meet the needs of any project regardless of size. Whilst one in-house linguist may not be able to complete a 10,000 word translation task within two days, three freelance linguists might be able to! Outsourcing thus gives you the freedom to say yes to any project! Sounds pretty good right?
Below, we have outlined some of our top tips to ensure that you're outsourcing the right way!
Outsourcing: Best Practices
Select the right partner. We've all experienced poorly outsourced service, whether it's on the phone to a foreign call centre or an IT development project that's not been delivered to specification. The key to success is selecting an experienced partner, one that understands the challenges and knows how to avoid the pitfalls.
Close communication between the outsourcer and your local teams is also paramount. Your outsourcer must become integrated into your corporate culture, understand your values and expectations, and be ready to respond to demand from a global audience of employees and customers.
To optimise your return-on-investment, it's a good idea to outsource the complete localisation process. For example, if possible, it's a good idea to ask the outsourcer to work directly in your CMS. That way you don't have to spend time exporting and importing your translations into your CMS. What is more, why not also ask if they could typeset any pdf files? This would equally save time and pennies on your end! At Web-Translations, we are always more than willing to work directly in your CMS and we love putting together any artwork you might need. To learn more about what we have to offer, why not visit our services page?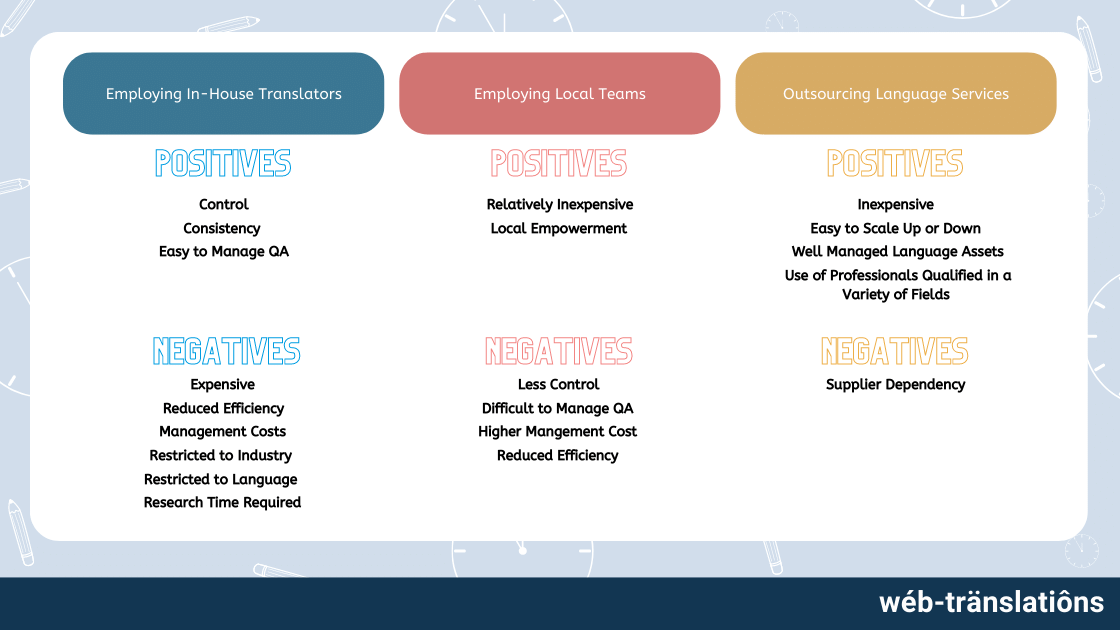 Contact us to find out more about the benefits of outsourcing language services.