Our team can work with you to localise all or part of your website, whatever your platform
Whether you have an established multilingual website or are only in the planning stages, we have the expertise to guide you and help you make the most of your online presence.
Our experienced consultants are well-equipped to help you prepare a strategy and deploy solutions that will meet your global business objectives. We can advise you on any aspect of your multilingual web strategy, including:
How to improve conversions
Redesigning your website with localisation in mind
Which Content Management System is right for your needs
Integrating Social Media with your website
If you already have translations on your website and are uncertain as to how suitable they are, our Translation Audit Service may be what you need.
No two businesses are the same, and from our experience of working with a wide variety of websites, we know that there are many unique considerations when it comes to the localisation process. We have developed an effective approach tailored to the needs of each client, in support of their business objectives.
eCommerce platforms
Magento
Shopify
Wix
WooCommerce
and more…
Content Management Systems
WordPress
Drupal
Sitecore
Episerver
Bespoke CMS
and more…
Plus booking engines, PIMs, static websites, and more! Contact us to find out how we can help you localise your website and extend your global operations.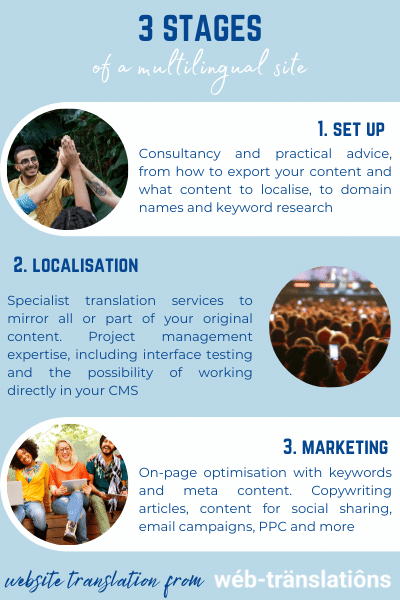 We provide website localisation in 140+ languages, and have a wealth of experience working in various industry sectors. You can read about other clients we've worked with in our Portfolio.
Contact us now to discuss your strategy.