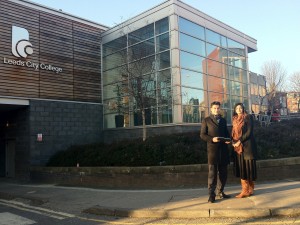 Web-Translations has been commissioned to implement the Leeds City College online rebrand and help engage new audiences as part of the college's commitment to Entrepreneurs.
In a move that will see the college opening up a whole host of creative services to entrepreneurs in and around the area, from screen printing and laser cutting, to retail and office units, Leeds City College is to streamline its web presence to help illustrate more clearly what they have to offer and engage with young businesses from around the region.
Bringing together the current offerings of Factory4, The Unit and The Workshop, the new website will see all 3 current offerings sit under a new brand called 'Inc', with a strapline of 'Inspiring Enterprise'. The sub-brands will then be Inc Enterprise (formerly The Unit), Inc Creative (formerly The Workshop) and Inc Workshop (formerly Factory4).
Although Web Translations are primarily specialists in helping organisations do business internationally online, and do not specialise in web design projects, Leeds City College felt the experience of the company's M.D, Daniel Rajkumar, aligned the company with the college's target audience. Daniel's previous experience as Commercial Director for web design company Clever Clover will stand him in good stead for this project.
Rifat Bashir, Business Incubation Manager at Leeds City College (shown above on the right) said: "It was important for us to choose an agency who really understood our core values. The fact that Daniel set up Web-Translations straight from Leeds University Business School, is a member of many entrepreneurship organisations, and has won several awards for entrepreneurship over the last 9 years convinced us that he and his team would understand our audience".
The website will provide information for those who are interested in renting office space, or in undertaking creative workshops, as well as information about mentoring services available. It will also have full social media integration to enable entrepreneurs from around the region to share knowledge, advice and experiences through Twitter, Facebook and LinkedIn.
Daniel Rajkumar said: "We are delighted to be working with Leeds City College on this project as I think the services they are offering are fantastic resources for people starting out in business. I've always found Leeds to be a great place for business people being supportive of each other and I hope our work on this project provides a further resource to bring entrepreneurs together".
To speak to Web-Translations about your website or international brand strategy, call +44 (0) 113 8150460 or email sales[at]web-translations[dot]co[dot]uk.
Web-Translations is pleased to be part of the Goldman Sachs Business Growth programme. This unique business education scheme has been organised by Goldman Sachs to support small businesses throughout Yorkshire and the Humber. It is run by the Business Schools of Leeds and Oxford Universities, who also devised the programme.
Our founder and managing director, Daniel Rajkumar, is one of the 25 entrepreneurs selected from 150 applicants to be invited to attend business management courses and receive mentoring and support from a senior member at Goldman Sachs.
The idea behind the project is to help small businesses in the region achieve their maximum potential, and also to help create job opportunities, in order to alleviate the effects of the current economic crisis. As the main focus of the programme, the entrepreneurs will undertake a four-month business and management course which will have an emphasis on real-life practical experience, allowing the participants to implement the ideas and strategies they learn as they go.
Daniel says of the scheme: "The Business Growth Programme has been excellent so far. The topics covered have given me a better strategic understanding and practical skills to aid the decisions I make in the business. I'm learning to step back from the day-to-day activities of running the business, which allows me to work on my overall business vision and direction. I've had the chance to learn from the experience of 24 other successful entrepreneurs, and have met inspirational leaders and been taught by some leading business lecturers. I would recommend it to other business owners."
We all look forward to seeing Web-Translations expand and flourish thanks to the support of Goldman Sachs.