In a recent poll, 90% of internet users in Europe would visit a site in their own language when given the choice. Meanwhile, 53% would still use a site if it was in English rather than their native language. However, despite this relatively high figure, these users would not necessarily be happy about the lack of information available in their own language, with 44% of respondents stating that they felt they did not necessarily receive all the facts when the website was only available in another language. (more…)
We've added a new feature to our website, so that you can ask us to call you back, just by completing a short form.
When you're browsing our services and portfolio pages, you'll see a "Please Call me" link at the bottom of the introductory paragraph: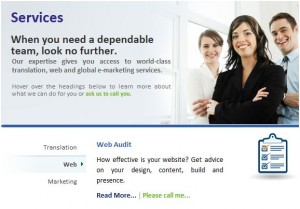 The link will take you to the following form – simply complete a few details about who you are, and give us a number to call you back on, along with your email address.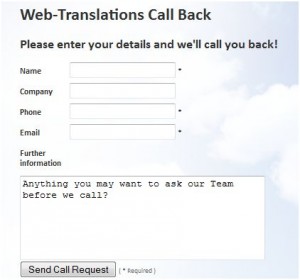 One of our Sales team will call you back as soon as they are free.