Need your video to be available in multiple languages? Want to show your customers that you invest in them? Don't fret, at Web-Translations, we are able to add multilingual subtitles to your video content but can reduce turnaround time and cost. For more information on our subtitling service, take a look at our recent blog.
Subtitling for multiple languages can be time-consuming and the cost can add up. However, we can use templates to help save you time and money. Read on to find out more about Subtitling Templates.
---
What is a Subtitling Template?
Subtitling templates are the transcription of a video's dialogue and on-screen text. This is done in the language of the video, also known as the source language. But why do need this you may be asking? Why can't the video just be translated straight into the target languages? Well, when a video is being subtitled the audio needs to be transcribed to create a script. Using this script, the linguists can then add timecodes to each phrase. They also ensure that the timing of the subtitle is aligned with both the video and audio. The linguists can then move onto translating the script, and make any tweaks to the timings. This depends on how the language has expanded or contracted.
Types of templates
Templates can be either locked or unlocked. Locked templates mean that the subtitler cannot amend the timecodes and will just translate the subtitles. This allows for a quicker turnaround, as the linguists won't need to spend time adjusting the in and out times. Unlocked templates, however, provide the linguist with a base, but allows them to amend the subtitles accordingly.
There are also another two types of template: original language and pivot language. This depends on the language of the video. Original language templates are a time-coded intralingual transcription which is then translated into the target languages. Pivot language templates, however, are a time-coded transcription in a third language. This third language is typically English, and it serves as an intermediary between the source and target languages. For example, if you have a video in Malay, it may be difficult to find linguists to translate into French and Spanish. However, by using a pivot language template, you can have one linguist translating the Malay into English. Then you have linguists translate the template from English into French and Spanish. This is particularly useful for those less common languages.
Although pivot templates mean that less common language videos can be accessible to a wider audience, aspects of the original culture could be lost. After all, the English to French translator may not understand Malay. But this is where annotations come in. A native speaker of the source language creates these annotations. They may note cultural references, the meaning of shortened words, cases of wordplay, puns and jokes. But they may also highlight the use of slang, tone of voice and meaningful names. These annotations mean that the translated subtitles are as close to the original as possible.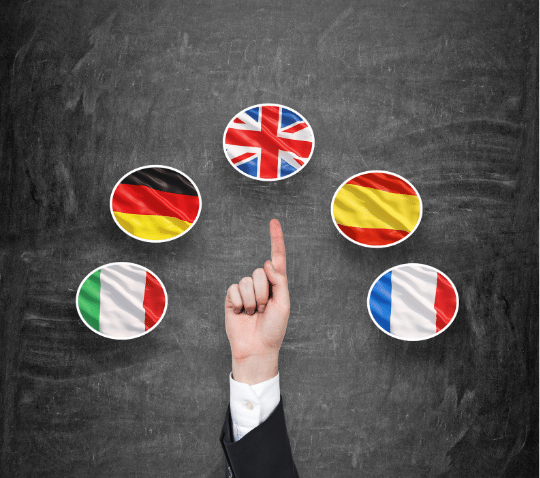 Why is Using a Subtitling Template Beneficial?
By creating a template, there are various advantages. We've listed some of these below:
The subtitling process is more efficient, as the video is only transcribed once. This means that the turnaround times are reduced, and you save time.
The content is standardised across all languages within the project. Therefore each set of subtitles will be consistent.
As you only need to pay for one template to be created, rather than transcriptions for each language, this allows for a reduced cost, saving you money.
Quality is assured across all languages, as a native speaker of the original language creates the template. This means that the transcription would be accurate.
A template also ensures cultural and linguistic accuracy. The native linguist is aware of cultural references. For example, meaningful names, certain monuments, and particular food that is eaten at a certain time.
---
We hope this blog answers any questions about Subtitling Templates. If you do have any other questions, please get in touch via our contact page or social media.
Fancy learning more about the world of translation? Why not check out our blog lifting the lid on Proofreading?
25 July 2022 08:31